Discover more from Truth and Consequences
A no-holds-barred look at the absurdities, hypocrisies, and surreality of American politics
Over 3,000 subscribers
Stop Blaming the Media For Donald Trump
I'm as befuddled as anyone by the continued devotion of GOP voters to Trump, but one thing I'm sure about: it's not the fault of political reporters.
I'm Michael A. Cohen, and this is Truth and Consequences: A no-holds-barred look at the absurdities, hypocrisies, and surreality. If you were sent this email or are a free subscriber and would like to become a paid subscriber, you can sign up here.
If money is tight or you're already up to eyeballs in subscriptions, here's another idea — share this article. Email it to a friend (or even an enemy). Post it on Facebook, LinkedIn, or Twitter (better the first two than the latter since Twitter is one of the least helpful social media sites for increasing traffic). Text or email it to your wife, husband, mother, father, brother, sister, or even your creepy second cousin in Spokane, Washington. Word of mouth is often the best way to build support for a creative endeavor, so if everyone here sends it to just one person … it would be much appreciated!
It's Not The Media's Fault
Regular readers of Truth and Consequences know that there are few arguments I hate more than the notion that the press is to blame for the rise — and continued popularity — of Donald Trump and the Republican Party.
That means I really didn't like Will Bunch's latest column in the Philadelphia Inquirer: "Journalism fails miserably at explaining what is really happening to America."
Bunch is an excellent opinion writer whose work falls on the left side of the political spectrum. And like many liberals, he can't get his head around why Donald Trump is still so popular … so he aims his rhetorical guns at a familiar target: the media.
Bunch is particularly aggrieved at how political reporters covered last week's first Republican presidential debate and Trump's arrest in Georgia.
If you watched the hours of TV news coverage during an especially momentous week in August, there was little sense of that reality, and for long stretches of pundit blather, none at all — as talking heads gave earnest high school debating marks to candidates who are all but ignored by the GOP voter base. The disconnect deepened the next night as Trump turned what would surely be his comeuppance — his surrender at Atlanta's bug-infested county jail for fingerprinting and a mugshot ― into an outlaw display of authoritarian force.

It was a remarkable night of imagery over substance, yet there was little discussion of why this accused felon was getting a phalanx of dozens of motorcycle cops, comprising police who are drawn to Trump's authoritarian bluster like moths to the light. Trump's glowering mugshot instantly became the most-talked-about picture in American history — yet not one pundit was able to explain why tens of millions of everyday voters are so eager to return to the White House this man who attempted a coup on Jan. 6, 2021, or why his poll numbers rise with each indictment. I guess the 20th-century author and socialist Upton Sinclair really nailed it when he wrote, 'It is difficult to get a man to understand something, when his salary depends on his not understanding it."
First, watching hours of TV news coverage of politics is never a good idea. Second, I have my share of complaints about the GOP debate and the odd journalistic focus on winners and losers when the only candidate that mattered (Donald Trump) wasn't there. But Bunch's argument falls victim to the increasingly tiresome notion that the media is failing to cover Trump properly. Let's dissect his argument piece by piece.
yet there was little discussion of why this accused felon was getting a phalanx of dozens of motorcycle cops
The gist of Bunch's column is that the press is too obsessed with style over substance and imagery over reality … which makes his focus on Trump's motorcade a bit discordant. Does that matter? Was the phalanx of police so unusual, particularly for a former president? We have an insinuation of malfeasance without much evidence to back it up.
comprising police who are drawn to Trump's authoritarian bluster like moths to the light.
It might be true that police love Trump's authoritarian bluster, but the only evidence Bunch provides is a 2017 post from the ACLU website. There's no polling I could find on police support for Trump. What is more certain is Bunch's insinuation that the police escorting Trump support him. How could he know that?
Trump's glowering mugshot instantly became the most-talked-about picture in American history
Hmm. I'll go on a limb and suggest that the photos of the attack on the World Trade Center were more talked about than the Trump mugshot. I imagine that for many Americans, the drama around Trump's legal woes no longer registers.
yet not one pundit was able to explain why tens of millions of everyday voters are so eager to return to the White House this man who attempted a coup on Jan. 6, 2021, or why his poll numbers rise with each indictment.
There's a lot to unpack here. First, it's not true that Trump's poll numbers have risen with each indictment. Trump's numbers have improved among Republicans. They've gotten slightly worse among all Americans — from 14.9 points underwater on March 30 (the date of this New York indictment) to -16 points the day after his Georgia indictment.
Since March, thousands of stories have been published detailing the four criminal indictments levied against Trump in New York, Florida, and Washington, DC. One would be hard-pressed to find many that weren't negative. The fact that Trump's approval numbers have only slightly moved tells us something rather obvious about press coverage of the former president: it's not changing people's minds. If these numbers aren't going to move after four separate criminal indictments, what reason is there to believe, as Bunch writes, "hear(ing) from more experts on authoritarian movements, and fewer pollsters and political strategists" would do the trick? I have no problem hearing from more experts on authoritarian movements, but let's not kid ourselves into believing that it would affect how the vast majority of Americans view Trump.
The conceit in Bunch's argument — which many liberal critics of the "media" make — is that if journalists just talked more about Trump's lies and the threat he represents to democracy, his support would decline. But every available piece of polling evidence suggests that Republicans love Trump and are unpersuaded by negative stories about him. As for the electorate as a whole, they know what they think about Trump and aren't budging.
I cannot make this point enough: the overwhelming majority of the electorate has an opinion about Donald Trump. Most of them view him negatively. There is little reason to believe that better, different, or more antagonistic press coverage will change people's minds. It doesn't mean the press should not cover Trump, but we should be realistic about the impact it will have.
De-Nile Is Not Just A River In Egypt?
As for the notion that "not one pundit was able to explain why tens of millions of everyday voters are so eager to return to the White House," … haven't we spent eight years asking and trying to answer this question?
More than seventy-four million Americans voted for Trump in 2020. There is no singular explanation for why so many people have supported and remain devoted to him today. Indeed, many of his supporters appreciate his racist and misogynistic statements. Others agree with him on issues like immigration and abortion. Most self-identify as Republicans or conservatives and can't imagine voting for a non-GOP candidate. This is not a question with a pat answer. Ironically, Bunch's demand that pundits should explain an issue as complex and multi-faceted as Trump's popularity would inevitably lend itself to the sort of glib political commentary that Bunch otherwise rails against.
Implicit in Bunch's argument is the unstated notion that voters are not smart enough to understand and appreciate the threat that Trump and the GOP represent to our democracy. We need experts on authoritarian movements to pontificate on television because only then will Americans get it. I am generally sympathetic to the argument that voters are not terribly savvy about politics and policy. But, as I wrote, after last year's midterms, it can be a bit more complicated.
In 2022, in nearly every battleground state, Republican election deniers lost. In state after state, MAGA candidates were defeated and often fared worse than other, slightly less extreme Republican candidates. Indeed, one of the dominant and heartening takeaways from 2022 is that voters recognized the danger that election deniers represented and rejected them. This happened after months of warnings — often from liberal pundits — that the media wasn't paying enough attention to the issue of election denialism. Maybe they did!
In 2020, voters clearly rejected Donald Trump's bid for a second term — even as he kept the support of Republican voters. In 2018, the backlash to Trump helped Democrats win 40 seats in the House of Representatives. More recently, Democrats continue to dramatically outperform Republicans in special elections. In the minds of too many media critics, we're still living in the political and media world of 2016. But not only have journalists figured out how to more effectively cover Trump's lies, but voters have also largely caught on to the danger he and his party represent.
Where Is The Beef?
For all of his broad criticism of the "media," Bunch cites four examples of lousy political journalism: a tweet by the New York Times's Peter Baker on political tribalism, the coverage provided by CNN on the night of the GOP debate, a piece by my former Boston Globe colleague, James Pindell, grading the GOP candidates; and a column by the Washington Post's Kathleen Parker on Nikki Haley's strong debate performance. So we have three blue state news sources primarily read by liberals and a cable news outlet that conservatives hate — and averages about half a million prime-time viewers. In what world would a more negative tone about Trump and the GOP from these left-leaning outlets move his supporters? Would any of them even see it? That Bunch criticizes these media organizations after noting that Fox News is little more than pro-GOP propaganda only highlights the oddity of these anti-press jeremiads. If conservatives slavishly watch Fox News and Fox News doesn't tell them the truth, how exactly would more anti-Republican coverage change their minds?
Finally, where is the evidence that the media isn't aggressively covering Trump and the GOP? The final and most frustrating irony of all this is that Bunch argues, "We need journalists who'll talk a lot less about who's up or down and a lot more about the stakes — including Trump's plans to dismantle the democratic norms that he calls "the administrative state," to weaponize the criminal justice system and to surrender the war against climate change." Yet, two of the three pieces cited by Bunch appeared in the New York Times and the Atlantic, the same mainstream outlets often accused of failing to appreciate and dramatize Trump's threat to democracy! As for climate change, here's a quick Google search I did on the GOP debate and climate change. This refusal of all but one GOP candidate to acknowledge that climate change is real received significant media coverage — and almost all of it was negative.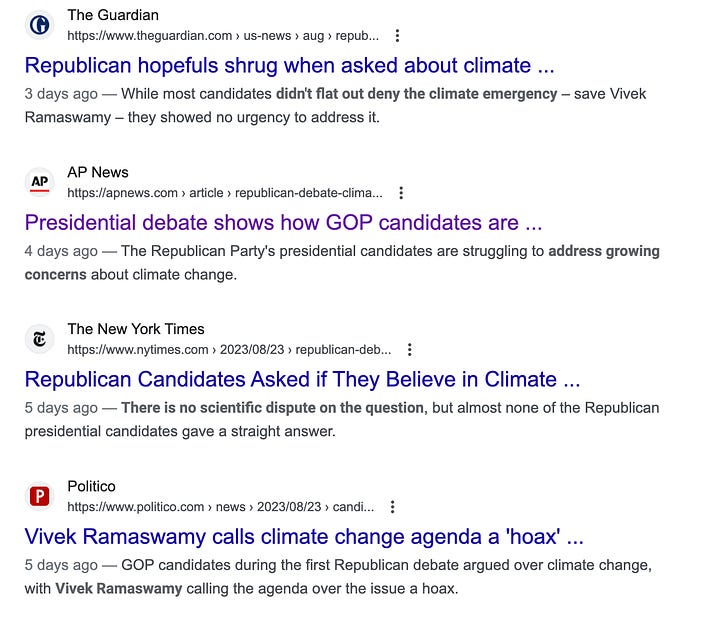 Indeed, so much of today's media criticism amounts to cherry-picking or believing that the plural of anecdote is facts. Coverage of Trump and the GOP is unremittingly hostile and negative — the exceptions do not prove the rule.
Look, I understand Bunch's frustration. It remains incomprehensible that so many Americans continue to support Donald Trump or vote for Republican candidates. And I have my complaints about political coverage. But this is not a mainstream media problem — it's a Donald Trump supporters' problem. Stop blaming journalists for not convincing them to see the world as you do.
What's Going On
Musical Interlude